Loutra Aedipsos
Aedipsos is a special part of Euboea Island.
Aedipsos is a special part of Euboea Island. The entire island stands out for the unique combination of blue color of the Greek sea and the green color of the rich flora of mountains. Euboea is blessed by God and nature!
The ancient legend says that Goddess Athena asked Hephaestus to create a warm bath for her beloved hero Hercules so that after each challenge to go and rest. The God of Fire made the favor of his sister and he has struck with a hammer in the land of Aedipsos. Immediately the hot water run!
Aedipsos is a special part of Euboea Island. The entire island stands out for the unique combination of blue color of the Greek sea and the green color of the rich flora of mountains. Euboea is blessed by God and nature! In this natural treasury is included the magic are area of Aedipsos, known worldwide for its medicinal thesaurus. Aedipsos can attract the most demanding visitor and can lead him to discover the marvelous secret that it hides the region.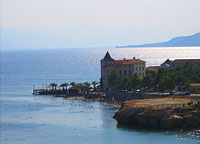 It is an area known for its hospitality spirit, full of life with vivid colors and strong perfumes that gives to anyone who visits it, serenity and mental clarity. It has a wide variety of visitors, many of whom are coming from far away. In recent years tourism has been developed as it attracts tourists who are not part of the so-called therapeutic tourism. Unlike with so many wonderful places around it is the main place for the exploration of Northern Euboea!
The history of Aedipsos started thousand years ago. It was then when the ancient Greek civilization ruled Southeastern Europe.
Dozens of historians of those times, including Strabo and Plutarch, mentioned Aedipsos in their texts both for its natural beauty and for its therapeutic hot springs. "... the city of Aedipsos at the island of Euboea is a place for pleasure and fun, full of elegant buildings and clubs that promise a luxurious stay."
Aedipsos was a cosmopolitan center and spa in Roman times, a place of fun and pleasures. Long time ago era which is described by marble slabs telling stories about Emperor Hadrian, Marcus Aurelius and the charm of Julia Domna is shown in her statue. Scylla, the Roman General has marked Aedipsos by his pass. They say that he has healed the pain of his legs in the therapeutic waters of Aedipsos. We remember him looking at the "Cave" of Roman baths which has been remained in the time.
This historical period is drawn by the most intense images. Here came all medieval despots and after Constantine the Great, Theodosius, etc.
3.000 years have passed but this story continues and the past means emotions. In recent years especially after the First World War the city's reputation was spreading everywhere. Celebrities, many writers and poets found their inspiration in Aedipsos. Ship owners and major economic players found their peace in summer at Aedipsos.
Global figures such as Aristotle Onassis, Winston Churchill, Maria Callas, Greta Garbo, Omar Sharif and others have been attracted by the stunning natural beauty of Aedipsos.
Nowadays Aedipsos is a major tourist destination. The thermal waters at the beach of Aedipsos are the Holy Gift for the region as the therapeutic properties alleviate any person who suffers. All spas are located close to the building of National Tourism Organization.
Restaurants, grill houses, fish taverns, cafe, bar, pizzerias, fast foods and ouzo places offer great options for tourists in Aedipsos.
Pastry shops and traditional cafe create a unique atmosphere with delicious products and the well-known homemade sweets. For shopping, stores attract visitors by providing a variety of handmade and cheap souvenirs, clothes and many other nice things.
Nightlife has nothing less than in other resorts. Theater, bars, live concerts from famous artists, happenings and many other events creates a high quality of nightlife and entertainment in Aedipsos. Friends of summer cinema and theater are offered nights of pleasure as two cinemas show all last films and theatrical performances.
It is myth that Aedipsos is only for old people. Youth has many choices for entertainment where they want following the family or alone. Aedipsos area offers choices for sports on the beach with sea ski, Jet Ski and surfing. Amateur fishermen have a place in the ports for fishing. Fans of scuba diving have the best sea with plenty of fish hunting.
Hunting club invites all friends to enjoy the sport in the mountains full of fauna helped to be enriched by them. Fans of mountain climbing have the opportunity to experience unforgettable moments throughout the region.
Many tours can be planned starting from Aedipsos. Wonderful beaches (busy or lonely), beautiful mountain forests, monasteries dipped inside forest green are waiting for visitors to enjoy relaxation. City is quieter in June and as we move forward to August gets busier. From beginning of August till middle of September is the busy season. Aedipsos doesn't sell tourism to the people who are coming every summer. It embraces every person and makes him feel the generosity of hospitality.
It has been read
6138
times