Sightseeing
Places to visit near Aedipsos
In Aedipsos you can visit the Archaeological Collection which is exposed to room at spa where there are many treasures unearthed from the excavations of specialists.
At City Park "EOT" you can also visit the "Mikri Vouli"; in Greek "Small Parliament". It is a modern forum for pensioners and not only for intense discussions, solutions and proposals for all political and social problems and often… they are dismissing governments!
Other attraction is the old spa of Agioi Anargyroi, a neoclassical architectural jewel which presence reminds times when Aedipsos spa was Mediterranean's top. Also one of the best preserved finds of Roman baths is the Cave of Sylla behind "EOT" spa.
Finally significant is City Hall of Aedipsos, from neoclassical era, which served as a high school before its present usage.
Sights
1. Start from STUDIOS MARIA GINI.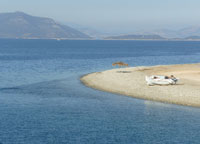 2. Agiokambos
Agiokambos is located 10 km northern of Aedipsos. As point of ferry line to Glyfa is the link of Northern Evia with Northern and Central Greece. It is a destination for tourism as it combines restaurants, taverns and night clubs with beautiful beaches.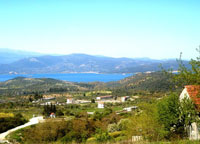 3. Agios

Agios is located 8 km from Aedipsos. The village is at the foot of mountain "Telethrio" in an area full of olive and fruit trees. The village's history begins in ancient times. In the village square, visitors can enjoy traditional dishes accompanied by local wine.
4. Gialtra

Gialtra village is located west of Aedipsos at a distance of 19 km. It is built at the foot of Mount "Xirosouvala" in extremely nice view point. At "Mpania" beach you can find lot of fish taverns or restaurants with traditional local kitchen and grilled food. For after the visitor has a lot of choices between bars, pastry shops and traditional cafe. Known for quality and taste is the wine of Gialtra, produced by the famous local vineyards.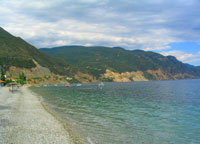 5. Ilia

Ilia are located 8 km south of Aedipsos at foot of mountain "Telethrion". It is a picturesque seaside village 70 years old. Varieties of sea food are served in local taverns. The visitor has the joy to calm or to have extreme fun at local music halls.
6. Polylofos

Polylofos is a village situated at an altitude of 500 m at mount "Telethrion" 10 km from Aedipsos. The beauties of the mountain will attract the visitor and the panoramic view of Aedipsos and Gialtra's golf is unique. Villagers are oquipied with agriculture and farming. The trip to Polylofo can be combined with a visit to the Holy Monastery of St. George which is located 2 km from the village.
7. Istiaia
Istiaia is the largest city and the commercial center of the northern part of the island. All nice taverns of Istiaia are situated on city's limits and on the roads to it. They are open all season time and they offer a variety of quality and delicious specialties with very reasonable prices. Unlike resorts of Northern Evia these taverns are busier in winter season. A small folklore and historical Museum is situated in the venues of Elementary Schools of Istiaia. Among the attractions of the city is the Natural History Museum of hunting Club.
8. Holy Monastery of St. George at Ilia.
9. Holy Monastery of St. David at Rovies.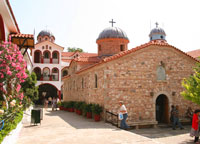 10. Holy Monastery of St. John the Russian.
Discover all beautiful beaches which are located at coastline of Northern Evia!
It has been read
4433
times